At Ball Systems, quality is one of our top priorities. We strive to not only meet, but exceed our customer's standards in all aspects, but quality stands out. From correct wiring all the way down to label orientation, we don't overlook any seemingly small detail in our efforts to deliver an excellent final product and keep our customers happy. We have an intrinsic belief that if we deliver a consistently excellent product, our customer will notice and return to us again and again. However, quality doesn't just happen – it's years of pushing, setting up procedures to make sure nothing leaves our doors without meeting a specific set of requirements, and establishing a company culture that prioritizes excellence.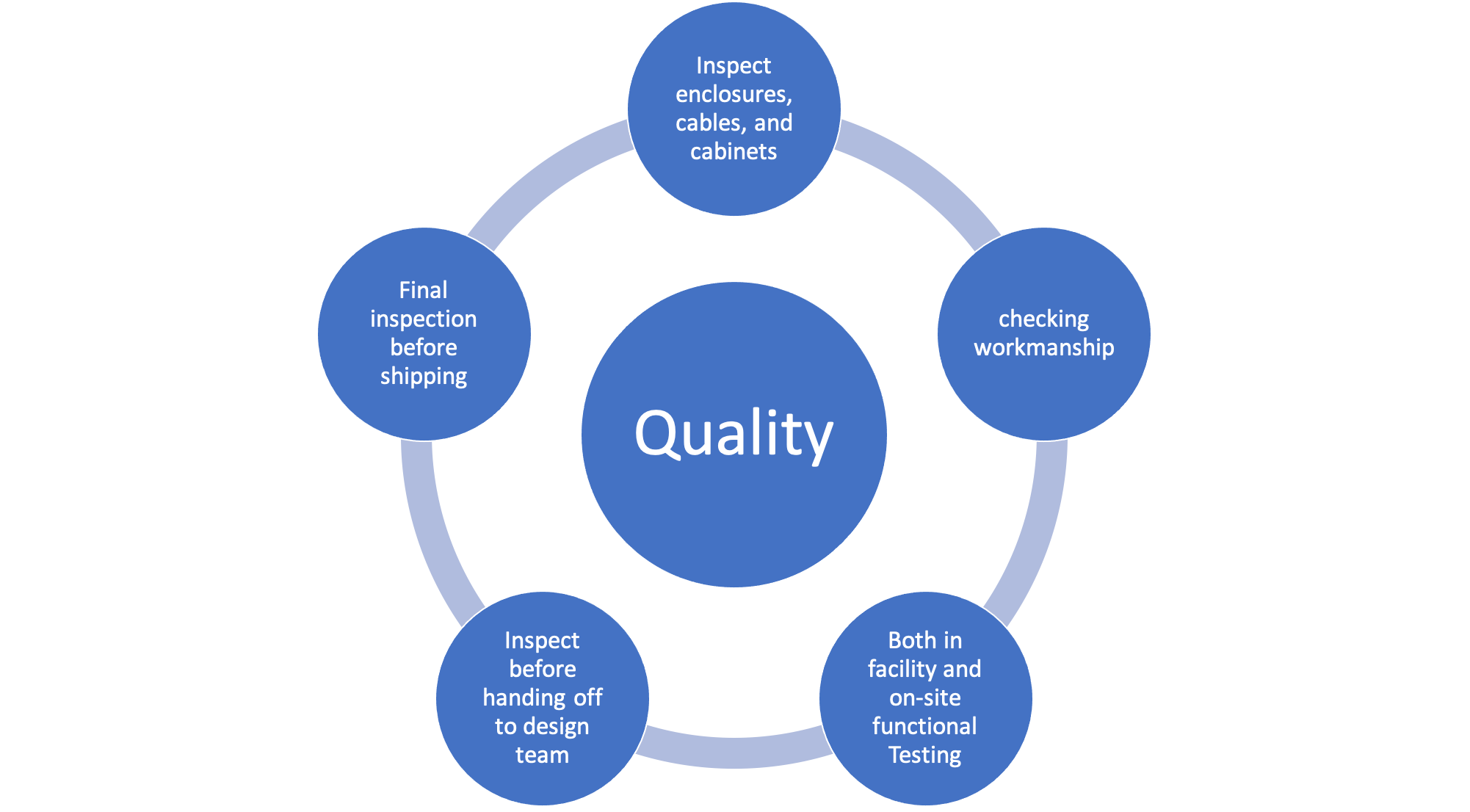 Rounds of Inspection
At Ball Systems, we have two different sections of our company – Build to Print where the customer provides prints to build and Design Build where the customer comes to us with a set of requirements that we then build a functional test system to meet those requirements. Both areas have a lot of interaction between our team and the customer, but a lot of the important steps take place behind the scenes. Quality is one of those items. We have a rigorous inspection process that includes different forms for enclosures, cables, and cabinets, highlighting each verified continuity point on the schematic, and checking workmanship for things like cold solder, tightened screws, and weak crimps.
However, the excellence in quality doesn't end there. We often do functional testing of our design systems on site. We always inspect before our design team begins – that way we avoid any crossed wires or damaged parts – but we also inspect once they're done and prior to shipping. This is absolutely key. Sometimes when our design team is functionally testing, they recognize a problem with the system that needs an updated schematic for us to build against. More often, it's just that in functional testing some wires get pushed aside or moved – generally just making the system less clean. That is why before shipping we're required to reinspect the system. We want our customer to receive an excellent final product that exceeds their requirements, and quality is an important step in that direction.
Functional Testing
As mentioned above, functional testing is another critical part of our quality efforts. Whenever we are able, our team functionally tests a system. There are exceptions – most of the time this is due to the actual function of the tester requires other pieces of equipment only at our customer's site – but our rule of thumb is that we prefer to functionally test on site. This is the best way we've found to make sure what goes out the door does exactly what our customer needs. Currently we even have a customer who shipped other equipment to Ball Systems in order to be able to test here. We can work with our customers to set up exactly what they're needing and when they'll need it. Sometimes, when that's less practical, it looks like sending one of our expert engineers on site at a customer's location so that they can be there for the install and preliminary testing.
Here at Ball Systems, our customer's happiness is our top priority. We refuse to cut corners and we do everything we can to deliver an exemplary final product to our customers. If you have any questions or are interested in do business with us, please contact us to meet with a test expert.