Whether it be for personal or business reasons, you will most likely encounter a need to ship something to another country at some point in your career. Don't let yourself fall prey to the common misconception that shipping internationally is no different than shipping domestically, and that all you need to do is use a little extra cushioning material. It is important to do your research and be properly informed, or it could result in your shipment being held up in customs, missing an important delivery date, or even being fined thousands of dollars. In this blog we will go over some essential tips for shipping internationally.
Although in most cases it is not a requirement, selecting premium packing materials and using caution labels, tip-and-tell indicators, and shock indicators can provide you with a better chance of your products arriving in the best condition possible. Customers can tell if you cut corners and do not use proper materials when your product arrives damaged. Consider using double wall or heavy-duty boxes, industrial strength bubble wrap instead of economy grade, a durable carton sealing tape, preferably 2.0 millimeter or more, and use appropriate handling labels when required. If your shipment contains an item too large or heavy for a fiberboard box, a wooden crate could be your best option. This will protect your product much better than just a standard pallet or large box. Just make sure to use ISPM 15 certified wood (which has been treated to prevent the international transport and spread of disease and insects that could negatively affect plants or ecosystems), sturdy banding or straps to secure your product within the crate, and we recommend cutting out small viewing windows covered with plexiglass on opposite sides of the crate to allow Customs to view inside the crate without having to disassemble it.
Now that you have your package ready to go you must determine which shipping company and customs broker you will be using. There are many to go through and your best option may depend on the size and urgency of what you are shipping. Next, check the import restrictions and regulations for the country you are shipping to. This information can easily be accessed through Export.gov and many shipping companies will make this accessible to you as well! Just as countries have vastly different cultures, they also have vastly different restrictions on what they allow to be imported and under what conditions. Keep in mind that many liquids, aerosols, batteries and other materials that have the potential to cause harm to humans, animals, or the environment could be considered a dangerous good and may have further restrictions on them and require additional documentation. To find out if your shipment contains a dangerous material, check with the International Air Transportation Association or Federal Aviation Administration.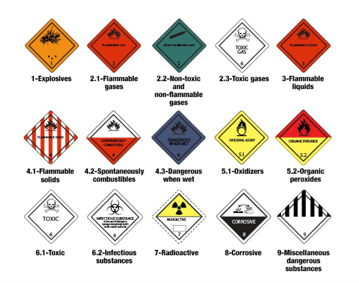 source: The Federal Aviation Administration
To ensure your shipment clears customs without a hitch, you will need to make sure you have the right documentation included with your package. The most common form is the commercial invoice. This is the primary document used by most foreign customs agencies for import control and determining tariffs and duties to be paid. Due to certain trade agreements, a certificate of origin may also be required depending on the product and destination. A certificate of origin states that a specific item has met the criteria to be considered as originating from a particular country and may entitle the importer to claim a lower tariff and duty rates. Additionally, if the value of the exported goods grouped by Schedule B number, or harmonized tariff schedule, is more than $2,500 or if the goods require an export license you will need to file an EEI (Electronic Export Information) required by the U.S. Customs and Border Protection (ACE).
If your next project opportunity seems out of reach due to international shipping concerns, we can help. Ball Systems has decades of experience in navigating international shipping and is connected with some of the best shippers in the field. We are prepared to design, build and ship your innovated ideas anywhere in the world.